Dames & Divas Kimono selection is based on condition, colour, size, supply & demand, interest and mystery.
Dames & Divas products' are handcrafted from vintage silk kimonos; all of which are at least 20 years old. The older the kimono the more likely that some areas may have been damaged over time. Slight markings add to the character and personality of the piece; however severe damage will not translate well to final pieces.
Childrens' kimonos (in particular girls) are often the most colourful. Gorgeous hues, busy patterns and interesting subjects are the Dames & Divas trademark which are at their best in these fabulous kimonos. However, childrens' kimonos are also the smallest, which means only 2+ metres of 17-30cm width silk can be obtained per kimono. Every pair of Dames & Divas Wedges uses 1 metre of fabric, so the smaller the kimono the more limited the range.
Adult kimonos tend to be more subdued however Furisodes (traditionally worn by unmarried women) are often bright and beautiful. Adult kimonos produce anywhere from 4-9 metres of silk depending on their size.
It is always exciting unpicking a kimono as you never know what you are going to find hiding beneath the intrinsic layers. Sometimes a section is un-picked to discover it was mended with a brilliant piece of kimono much more beautiful than the kimono itself. These pieces are never wasted, instead used in the creation of Dames & Divas accessories such as rings and hair accessories.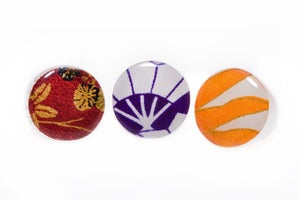 Selection is driven by supply and demand. Orange and red kimonos are the most sought after. Turquoise and aqua are also very difficult to find in good condition. Here is a picture of our favourite kimono ever! We have never been able to find a kimono this brilliant turquoise again.
Interesting patterns and subjects are important. Tsuru (crane) motifs are a personal favourite as the species are endangered and symbolise longevity and immortality. Floral motifs, Autumn scenes, shibori (tie-dye), embroidery and silver/gold embellishments also are high on the list.
Last but not least, mystery and allure come into play. Some kimonos just 'speak' to you. There's so much history associated with every kimono, it creates mystery and intrigue about who may have worn it before.